Categories > Shade Trees > Quaking Aspen
Quaking Aspen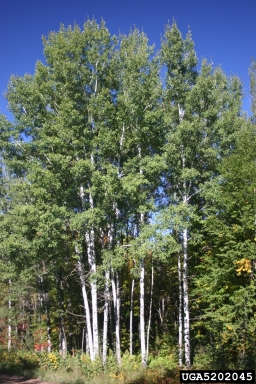 Quaking Aspen is a beautiful fast growing tree that is extremely cold hardy. It prefers moist to wet sites and full sun to light shade. However, it will tolerate a wide variety of habitats including soil types and moisture conditions and at a great range of elevations.
The dark-green heart shaped leaves in the summer appear after the catkins in May, and turn a brilliant yellow-orange in the fall.
The leaves have long leaf stalks causing the leaves to flutter in the slightest breeze.
The bark of the aspen is light in color, smooth and thin. As trees mature the bark may become dark gray furrowed and thick.

---