Categories > Flowering Trees,Shade Trees > Fruitless Pear
Fruitless Pear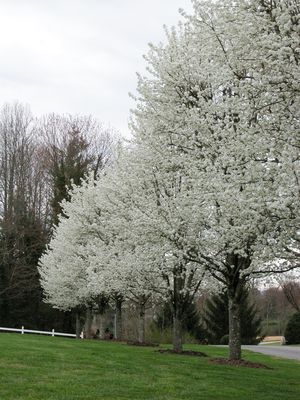 There is nothing more beautiful in spring than a flowering pear tree covered in snowy white blooms. fruitless pear trees display evenly branched limbs with pyramidal form.
This deciduous tree is a vigorous growing medium sized tree with masses of white flowers in spring.
This is an excellent street tree with beautiful purplish-red and yellow fall colors.  Reaches a height of 30 feet and width of 15-20 feet.
It tolerates urban conditions, and heavy clay soils.
---