Categories > Flowering Trees,Small Trees > Crabapple White
Crabapple White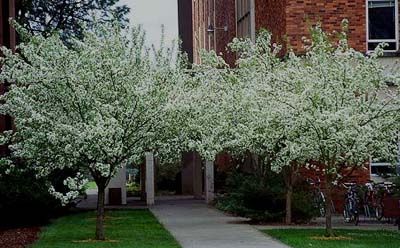 The White Crabapple is a deciduous tree with a medium growth rate. The mature height is approximately 20' high by 20' spread. Perfectly suited for residential planting.
Foliage is glossy dark green. The tree produces a mass of white flowers giving way to orange fruit. The orange fruit is approximately 1/2" in diameter, persisting until after leaf drop.
The formal look of the tree makes it very popular. Upright spreading, rounded, dense, symmetrical crown.
---